About Us
We are decoding human tissue biology to create revolutionary therapeutics.
We believe breakthrough therapeutics for patients with inflammatory diseases are within reach. By targeting the underlying dysregulation that drives disease, our team is identifying and advancing a pipeline of medicines that have the potential to transform how we treat debilitating inflammatory conditions.
We know that the immune system plays a significant role in the development of disease, but in-depth studies of immune processes in human tissue have historically been limited.
Until now.
With the advancement of functional genomics and sequencing technologies, and the increasing ability to process and interpret large quantities of high-dimensional data, we now have the tools to interrogate human tissue processes at unprecedented resolution.
TRexBio is at the forefront of these efforts, combining multidisciplinary expertise across immunobiology, drug discovery, functional genomics, computational and translational biology to uncover 'deep biology' in human tissues.
Our powerful discovery platform maps tissue regulatory T-cell (Treg) behavior to disease processes and identifies novel biology for therapeutic intervention.
We are a team of experienced and passionate scientists, drug development experts, and industry leaders. We are committed to decoding the human tissue immune system and believe we are uniquely positioned to usher in breakthrough medicines with this approach.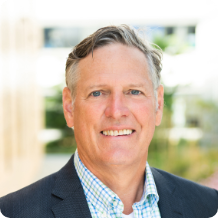 Johnston Erwin joined TRexBio in May 2021 as Chief Executive Officer. Most recently, he was Vice President, Corporate Business Development – Lilly New Ventures at Eli Lilly and Company. Mr. Erwin spent 36 years at Lilly. Between 2002 and 2014, he led the clinical team which made global regulatory submissions for the brands of Evista and Forteo. Under his leadership, both brands were approved in more than 80 countries and reached "blockbuster" status of greater than $1 Billion in worldwide sales each.
Starting in 2014 and until his retirement in 2021, he led Lilly New Ventures – Lilly's internal venture capital investment team. During his tenure, the invested capital grew more than five times and was cash-on-cash positive for seven consecutive years. Given the strategic nature of Lilly's investments, they acquired >10 companies and established collaborations with >20 companies where Mr. Erwin was part of the founding investment team, investor or board member. Upon his retirement, Lilly had >45 direct investments.
Dr. Melanie Kleinschek is Chief Scientific Officer of TRexBio and brings 15 years of drug discovery experience in translational immunology spanning target identification through early clinical development. She has a proven track record for developing research insights into innovative therapeutic approaches for autoimmune and inflammatory diseases.
Prior to joining TRexBio, Dr. Kleinschek was VP of Science and Innovation Strategy at Theravance, where she led disease area and indication strategy across the inflammation and fibrosis franchises. Before that, as VP of Biology & Pharmacology, she led a large research team to support all preclinical and translational biology activities for Theravance's respiratory, GI, skin and ocular inflammation programs helping to bring multiple drug candidates to the clinic. Earlier in her career, Dr. Kleinschek held roles of increasing responsibility in the respiratory & immunology franchise at Merck and Schering-Plough with a target identification and drug discovery focus on mucosal immunology and immunoregulation.
Dr. Kleinschek received her PhD in immunology at Leipzig University and her DVM at the Justus Liebig University, Giessen in Germany. Her postdoctoral research at DNAX in the field of cytokine biology in inflammatory diseases founded her career in drug discovery.
Ovid Trifan, MD, PhD, is Chief Medical Officer of TRexBio and brings considerable experience in clinical research. During his career, he contributed to the development of several drugs including Nexavar® (sorafenib), Stivarga® (regorafenib), Ixempra® (ixabepilone) and Erbitux® (cetuximab). Before joining TRexBio, he was CMO and Senior VP of Development at Apexigen, a clinical-stage biotech company focused on immuno-oncology. Prior to Apexigen, Dr. Trifan had senior roles in clinical research teams at leading pharmaceutical companies such as Onyx, BMS and Johnson & Johnson.
Dr. Trifan was awarded an M.D. and doctorate in cell biology from Carol Davila University of Medicine and Pharmacy in Bucharest, Romania.
Laura Berner brings extensive experience in corporate development, corporate and strategic transactions, investor relations, strategy and operations to her role as Chief Business Officer of TRexBio. Most recently, she was VP, Head of Business Development & Investor Relations at Myovant Sciences, where she led the execution of global partnering transactions for the commercialization of the company's lead product (relugolix) and supported the company through multiple follow-on financings. Earlier in her career, she was a member of the Transactions team with Roche Pharma Partnering, where she was responsible for leading transactions across the fields of oncology, immunology, neuroscience, infectious and rare diseases. She began her career as a corporate attorney first at Ropes & Gray LLP, and later in the Office of the General Counsel at Harvard University, advising on general corporate, business development and strategic partnering transactions.
Laura obtained her BA in biology magna cum laude from Bryn Mawr College, and her JD from Stanford Law School, where she was an Executive Editor on the Stanford Law Review.
Dr. Susannah Barbee, PhD, is Executive Director, Head of Translational Biology at TRexBio.
Prior to joining TRexBio, she held positions of increasing responsibility at Five Prime Therapeutics, where she led multiple immuno-oncology projects spanning target validation to early clinical development. She also directed the Exploratory Biomarkers group, responsible for preclinical research across the company portfolio. Prior Five Prime, she worked extensively on immunomodulatory antibodies and fusion proteins in both immuno-oncology and autoimmunity at Amplimmune Inc (subsequently Medimmune/Astra Zeneca). As a T cell immunologist, in the academic setting she expanded our understanding of how T cells develop and modulate tissue immunity.
Dr. Barbee received her training at Harvard University (BA Biochemistry and Molecular Biology) and California Institute of Technology (PhD Biology), followed by post-doctoral research at Cancer Research UK/King's College London.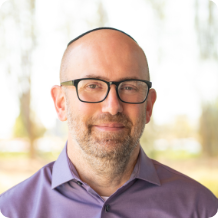 Peter Bowers serves as Executive Director and Head of Biotherapeutics for TRexBio. He has held senior leadership positions in both academic and industry settings focused on therapeutic antibody discovery, most recently as Associate Professor and Director of the David Geffen School of Medicine Therapeutic Antibody Lab at UCLA. Previously, as Senior Director and scientific co-founder of AnaptysBio Inc, he oversaw the discovery and development of multiple first-in-class, clinical-stage antibodies for the treatment of inflammatory and oncology indications, including Imsidolimab, an anti-IL-36R targeted antibody for the treatment of inflammatory skin conditions.
Dr. Bowers holds a PhD in biochemistry from the University of Washington in Seattle, and was a postdoctoral fellow in the laboratories of David Baker and David Eisenberg. He has directed discovery activities for over 50 pharmaceutical antibody therapeutic programs, and authored more than 35 research papers and patents focused in the areas of therapeutic antibody discovery, mammalian display and somatic hypermutation for antibody discovery, protein engineering and affinity maturation.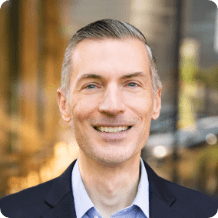 Matt Chrysler joined TRexBio in 2019 with 15 years of portfolio and commercial experience in both emerging and large biotechnology companies. Most recently, he led New Product Planning at Ultragenyx, driving early-stage pipeline strategy decisions for potential gene therapy, biologic and small molecule therapeutics. Previously at Ultragenyx he was Global Commercial Lead for multiple late-stage programs, including overseeing launch preparations for Crysvita in collaboration with a global pharmaceutical partner. Earlier in his career, he held a variety of portfolio management, corporate strategy and brand management roles at Genentech. He started his career as a Management Consultant at ZS Associates.
He earned an MBA and MS in biochemistry from Georgetown University, and a BS in microbiology from the University of Washington.
Shireen S. Khan, PhD, is Executive Director of the Molecular and Cellular Biology Group at TRexBio. Prior to joining TRexBio, she was Senior Director of Biologics at ChemPartner in South San Francisco, where she led a Biologics group that expanded ChemPartner's antibody discovery capabilities into single B-cell cloning on the Beacon platform. She also led multiple therapeutic antibody discovery programs for biotech and pharmaceutical companies across the US. Prior to ChemPartner, Dr. Khan led the functional biology group at XOMA and advanced several therapeutic candidates through in vitro and in vivo efficacy studies.
Dr. Khan completed her PhD in biology at the University of California, San Diego and post-doctoral training at DNAX studying cell cycle checkpoints that are dysfunctional in cancer.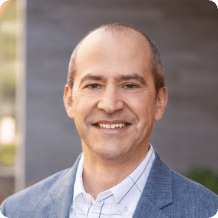 Christopher Yohn, PhD, is Executive Director, Head of Computational Biology at TRex Bio.
Prior to TRexBio, Dr. Yohn was Senior Director, Discovery Technologies at UNITY Biotechnology working on developing therapeutics for diseases of aging through senolytic approaches. He led the bioinformatics, biomarker discovery and histology functions as well as directed efforts for indication selection, headed various discovery disease programs and guided biomarker development for UNITY's ophthalmology clinical program. Earlier in his career, he was Director of Biotechnology for Sapphire Energy, which developed liquid transportation biofuels from algae strains he helped create. He also led the bioinformatics function at Favrille, a clinical-stage company making patient specific cancer vaccines for Non-Hodgkin lymphoma.
Chris completed his training at Northwestern University (BS in biomedical engineering) and The Scripps Research Institute (PhD in macromolecular and cellular structure and chemistry) followed by post-doctoral work at the Skirball Institute of Biomolecular Medicine at NYU Langone School of Medicine.
Ali Zarrin serves as Executive Director of Drug Discovery at TRex Bio, leading a team of scientists with the overall responsibility for target discovery, validation, and preclinical therapeutic development in different disease areas.
Dr. Zarrin joined Genentech Early Research and Development where he was instrumental in leading several transformational initiatives to advance multiple therapeutic programs from early discovery research covering diverse mechanistic pathways for cancer, inflammatory and autoimmune indications. He also led various disease area research strategies with the focus in autoimmune and inflammatory diseases. Dr. Zarrin has over 41 scientific publications (and 5 patents) on diverse topics in journals including Nature, Nature Immunology, Nature reviews Drug Discovery, Nature Reviews Immunology, Science, Science Signaling and PNAS.
Dr. Zarrin obtained his BS in University of Minnesota and his PhD in Immunology from University of Toronto. He then carried out postdoctoral study in the lab of pioneering geneticist and molecular immunologist, Fred Alt, at HHMI/Harvard.
Houman Ashrafian, MD, PhD, is a Managing Partner at SV Health Investors and co-founded TRexBio in 2018.
Alongside TRexBio, he has founded five other SV companies: Alchemab, Catamaran Bio, Enara Bio, Mestag and Sitryx. Dr. Ashrafian serves on the Dementia Discovery Fund (DDF) Investment Committee and on the boards of Therini and Imbria.
Previously, Dr. Ashrafian co-founded the services company Cardiac Report in 2003, as well as Heart Metabolics in 2008. He went on to become Vice President and head of the Clinical Science Group at UCB Pharma.
Outside of SV, following completion of his cardiology training, Dr. Ashrafian was appointed as an Honorary Consultant Cardiologist in 2011 at the John Radcliffe Hospital in Oxford. He is Visiting Professor and head of Experimental Therapeutics at the University of Oxford. Additionally, he is Co-founder and Chairman of Weatherden, a boutique clinical development company.
Jeanne Bolger, MD, serves as the Vice President, Venture Investments at Johnson & Johnson Innovation – JJDC, Inc. (JJDC) since 2013. Her responsibilities are focused on investing in and managing portfolio investments in start-up and early stage life science companies in areas of strategic interest to J&J's business sectors in Pharmaceuticals and Biotechnology, Medical Devices and Consumer. She represents or has represented JJDC on the board of directors of over a dozen companies, including Aelix Therapeutics, Asceneuron SA, Aviado Bio, Biocartis, Calypso Biotech, Caelus Health, Dreem, Inivata, Merus, Pulmocide, S-Biomedic, Syndesi, Topivert and TRexBio. She has also represented J&J / JJDC's LP position in multiple VC Funds and other financing vehicles.
Dr. Bolger has nearly 35 years of pharmaceutical industry experience in management roles across R&D, Commercial and Business Development. She spent 11 years in Licensing and Acquisition, most recently as Global Head of Scientific Licensing for Johnson & Johnson's Pharmaceutical business, having joined the Johnson & Johnson Family of Companies in 2005 from the Business Development group at GSK.
She received her medical degree from University College Dublin. She is a Fellow of the Royal Academy of Medicine of Ireland. She has served as the sole pharmaceutical industry representative on two Irish government taskforces seeking to enhance the commercialization of IP from Irish academic centres and is on the industry advisory board of CURAM. She is a visiting lecturer on the MSc Pharmaceutical Medicine curriculum at Trinity College in Dublin, Ireland.
Travis Coy leads business development transaction and M&A execution across Eli Lilly's therapeutic areas. His leadership, responsibilities and experience range from managing and developing the strategic and economic analyses of transactions (M&A, licensing and equity) to leading negotiations to having had financial leadership of alliances.
He has had a variety of finance and business development experiences at Lilly including positions as Head of Business Development Transactions for Oncology and Diagnostics; Head of Business Development for Cardiometabolic Diseases, Drug Delivery, Device and Connected Solutions; Finance Director of Lilly's Oncology Business Unit; Director of Investor Relations; Director of Corporate Finance and Investment Banking; and other financial controllership roles.
Before transitioning to finance and business development, he was a Chemist in Lilly's research laboratories and a Production Manager for Milliken & Company.
Travis earned his MBA from the Ross School of Business at the University of Michigan and his BS in Chemistry from Rose-Hulman Institute of Technology.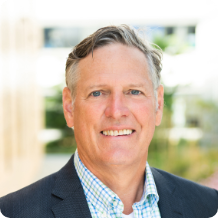 Johnston Erwin joined TRexBio in May 2021 as Chief Executive Officer. Most recently, he was Vice President, Corporate Business Development – Lilly New Ventures at Eli Lilly and Company. Mr. Erwin spent 36 years at Lilly. Between 2002 and 2014, he led the clinical team which made global regulatory submissions for the brands of Evista and Forteo. Under his leadership, both brands were approved in more than 80 countries and reached "blockbuster" status of greater than $1 Billion in worldwide sales each.
Starting in 2014 and until his retirement in 2021, he led Lilly New Ventures – Lilly's internal venture capital investment team. During his tenure, the invested capital grew more than five times and was cash-on-cash positive for seven consecutive years. Given the strategic nature of Lilly's investments, they acquired >10 companies and established collaborations with >20 companies where Mr. Erwin was part of the founding investment team, investor or board member. Upon his retirement, Lilly had >45 direct investments.
Carol Gallagher, Pharm.D., is an experienced board director having served as a director in both public and private companies since 2011. Prior to her board work, she had a successful and varied career in both large and small biopharmaceutical companies for over thirty years, including being the President and CEO of Calistoga Pharmaceuticals, which was acquired by Gilead in 2011. During her career, Dr. Gallagher has led commercial, drug development, and business development activities.
She joined New Enterprise Associates (NEA) in 2014 as a Partner and now serves NEA as a Venture Partner. She currently serves on four public company boards and five private company boards. She previously served as an independent director and/or Chairman on other private boards including Aragon Pharmaceuticals, AnaptysBio and eFFECTOR Therapeutics. She has been involved in M&A exits as well as IPOs.
Dr. Gallagher attended Vanderbilt University and received B.S. and Doctor of Pharmacy degrees from the University of Kentucky College of Pharmacy.
K. Peter Hirth, PhD, Co-founder and formerly Chief Executive Officer of Plexxikon, Inc., has over 30 years of biotechnology and pharmaceutical discovery and development experience and currently serves as a board of Aligos Therapeutics, Escient Pharmaceuticals, Iconic Therapeutics, IO-Biotech and Vaxcyte.
From 2001 to 2013 at Plexxikon, Dr. Hirth built a novel, structure-guided drug discovery platform, which brought several new chemical entities into the clinic, including Zelboraf®, an FDA-approved therapy for metastatic melanoma together with a companion diagnostic. From 1991-2000, as Sugen Inc.'s President and Founder, Dr. Hirth was instrumental in building the company from its inception and in advancing several kinase inhibitors through clinical trials in oncology. Prior to Sugen, he was Vice President of Research at Boehringer Mannheim where he successfully led the company's erythropoietin program to approval in 1989. Dr. Hirth was also a research scientist with the Max Planck Institute.
He completed his post-doctoral work at the University of California, San Diego and received his PhD in Molecular Genetics from Heidelberg University, Germany.
Mike Ross, PhD, has had a career that spans 21 years in venture capital, which followed 21 years in senior operating executive roles for leading biotechnology companies. He joined SV Health Investors as a Venture Partner in 2001 and became a Managing Partner in 2002. Mike was the tenth employee at Genentech, where he worked for 13 years. He served as Genentech team leader for the Humulin® Roferon®, Protropin® programs and was Vice President of Development during the development of Activase®, Nutropin® and Pulmozyme®. He then started Genentech's antibody engineering, protein engineering and small molecule discovery effort as Vice President of Medicinal and Biomolecular Chemistry. Dr. Ross was the founding CEO of Arris Pharmaceutical, MetaXen, ExSAR and CyThera (now Viacyte).
He received his PhD in Chemistry from Caltech and went on to do his post-doctoral work at Harvard. He serves on the Board of the Thayer School of Engineering (Dartmouth College). Dr. Ross has served on numerous venture and public biotech boards.
Mike Baran, PhD, has responsibility for growing venture investment transactions and managing equity investments aligned with future directions of Pfizer. He currently has responsibility for Pfizer's investments in Anjarium Biosciences, Autobahn Therapeutics, ImCheck Therapeutics, ImmunOs Therapeutics, Interius Biotherapeutics, Magnolia Neurosciences, Mediar Therapeutics, Parthenon Therapeutics, and TRex Bio.
From 2017-2018 Mike served as Senior Director of Portfolio Strategy, critically assessing the R&D portfolio from a volume, value, quality, risk and productivity perspective with the ultimate objective of maximizing R&D productivity and value generation. From 2011-2017 Mike was Senior Director, Scientific Affairs for the R&D President's Office, enabling and communicating the R&D strategic agenda as well as leading colleague development capabilities. Mike joined Pfizer in 2008 in the market access space providing strategic and analytical support around marketing and managed care contracting with commercial and government payers.
Previously, Mike worked within the NIH Protein Structure Initiative's Northeast Structural Genomics Consortium coordinating protein structure production efforts, including bioinformatics, protein expression/purification and 3D structure determination. Mike is also a co-founder of Nexomics Biosciences, a NJ-based biotechnology company focused on providing gene-2-structure services as well as early-stage drug target validation.
Mike earned his PhD from Robert Wood Johnson Medical School/Rutgers, the State University of New Jersey in biochemistry. He holds a MBA from Rutgers Business School and received his BS in Biochemistry/Information Technology from Syracuse University.